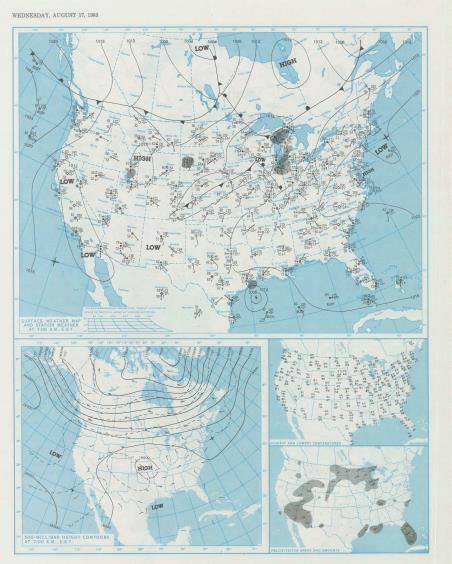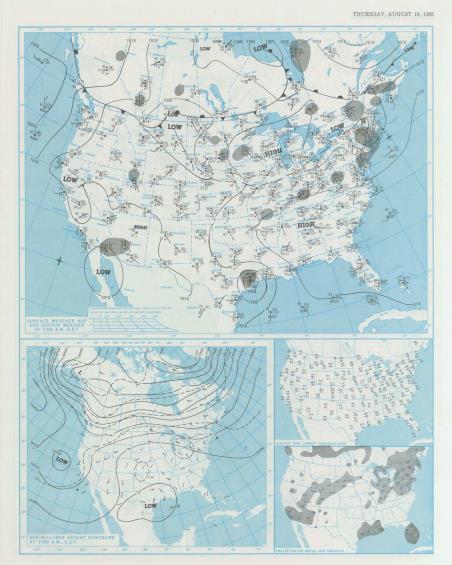 Formed August 15, 1983 (1983-08-15)

Dissipated August 21, 1983 (1983-08-22)

Highest winds 115 mph (185 km/h) (1-minute sustained)

Lowest pressure 963 mbar (hPa; 28.44 inHg)

Fatalities 21 direct

Damage $2.6 billion (1983 USD)

$5.7 billion (2010 USD)

Areas affected Eastern Texas (particularly around Houston) and Louisiana

Alicia, in August 1983, was the first hurricane to make landfall on the U.S. mainland since Hurricane Allen hit South Texas on Aug. 9, 1980.

The highest winds recorded on land were 96 mph sustained, and gusts were up to 127 mph. The lowest barometric pressure recorded on land was 28.55" at the Alvin weather service office. Rainfall amounts exceeded 5 inches in most places, and the east side of Houston received almost 11 inches. The highest storm surge was a 12' reading at Seabrook on Galveston Bay. On the gulf side of Galveston Island, tides were 7.5', and on the bay they were 8'. Baytown, on the north shore of Galveston Bay, recorded a 10.7' tide which put water on the rooftops in the Brownwood subdivision. Severe freshwater flooding was minimized by Alicia's fast movement inland, and most damage was the result of wind and storm surge or a combination of the two.

refrences

http://www.usatoday.com/weather/huricane/history/walicia.htm

http://chps.sam.usace.army.mil/USHESdata/Assessments/alicia/introduction.htm

  Hurricane Alicia made landfall on the extreme western tip of Galveston Island during the predawn hours of Thursday, August 18, 1983. The storm had developed rapidly over the north-central Gulf of Mexico during the previous 24 hours. When it made landfall, it was slightly above average in terms of size and intensity. Research aircraft of the National Oceanic and Atmospheric Administration (NOAA) made measurements in the storm until it came ashore. In addition, the storm made landfall near several major weather offices and radar facilities.

  Some unusual aspects of Hurricane Alicia that are documented in this report include its rapid strengthening in the 12 to 18 hours prior to landfall, its rather sharp turn to the right (toward the northnorthwest) during the afternoon of August 17, and the double concentric eyewalls of the hurricane during the few hours prior to and just after landfall. Also, Hurricane Alicia was the first storm for which a new "probability" system of predicting hurricane landfall was used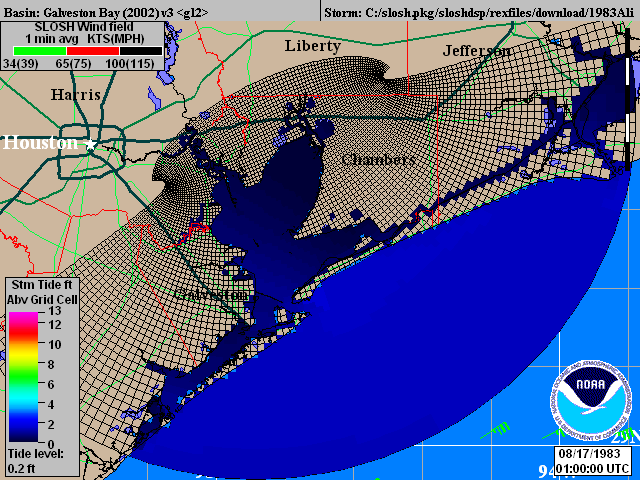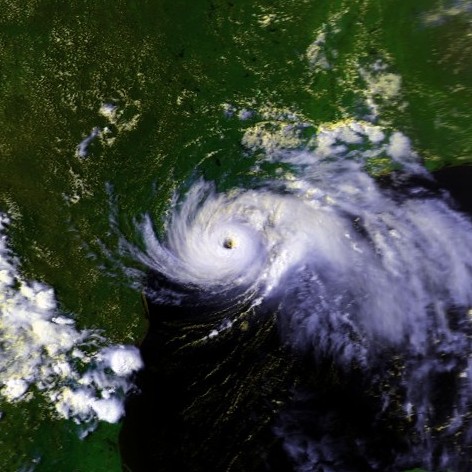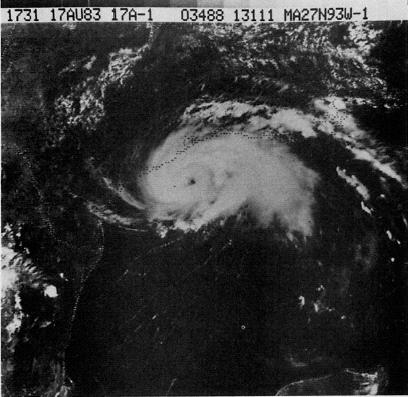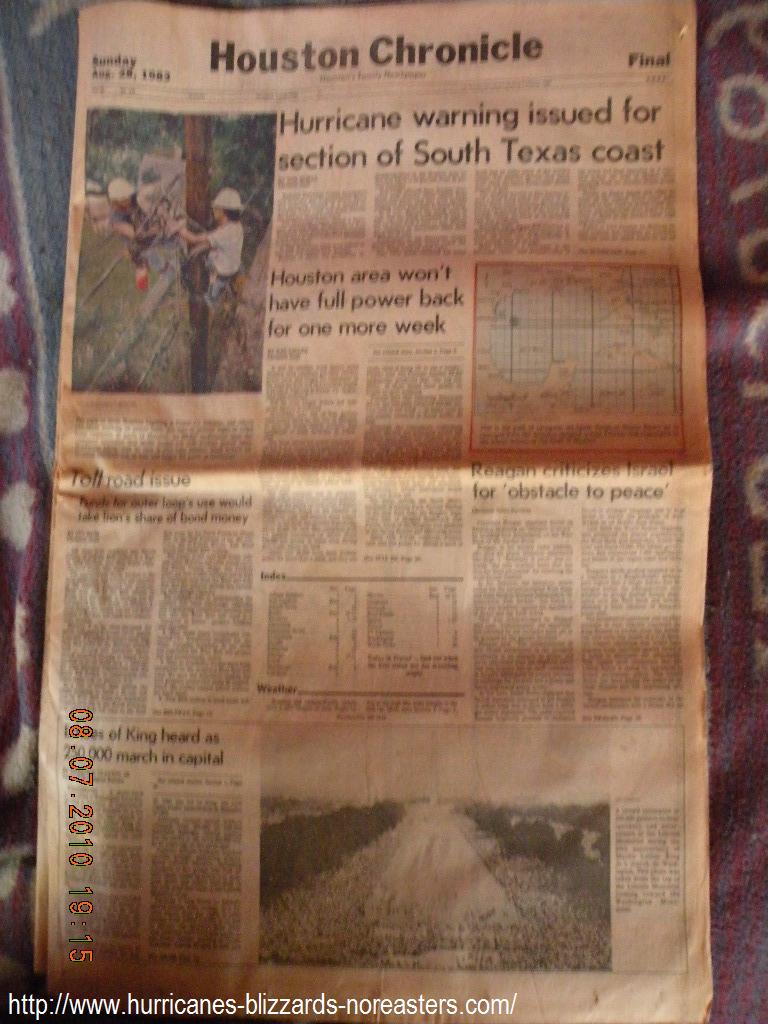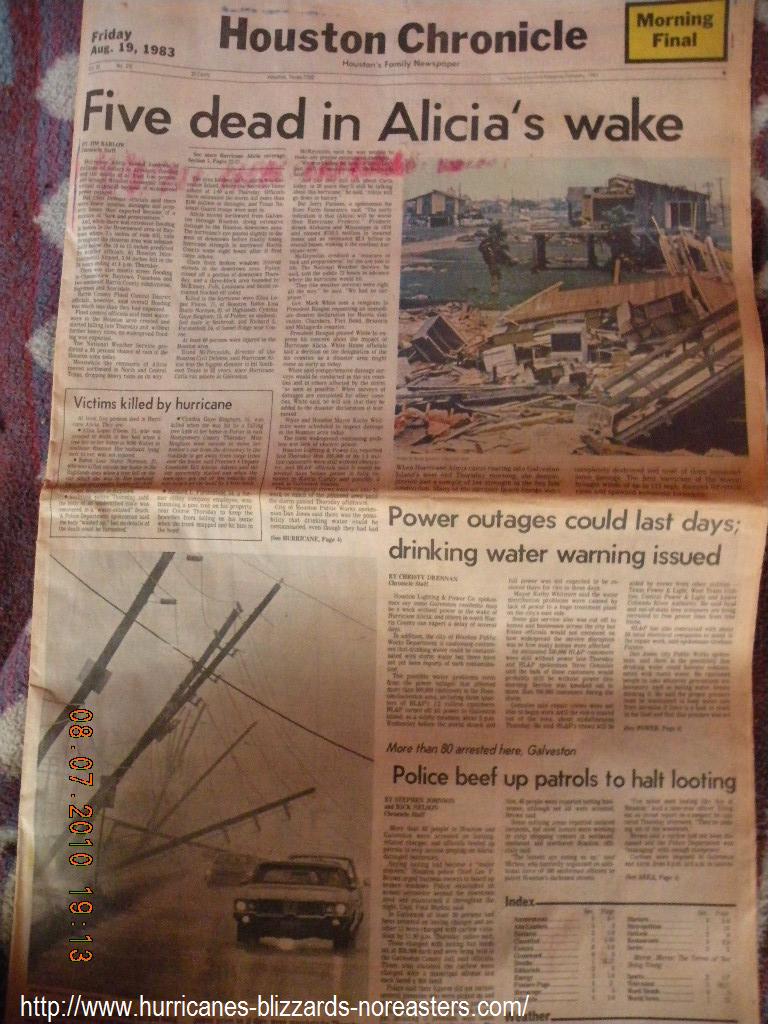 CLICK ON ARTICLE TO READ IN LARGER PAGE

CLICK ON PHOTO FOR LARGER PHOTO